Joined

Mar 24, 2019
Messages

64
Being the precure trash I am and having a liking for cooking and eating yummy foods, I attempted to make a real-life imitation of one of the foods from the Mahou Tsukai Precure series.
Specifically in episode 25, when the girls go to the beach and get to eat the rumored "famous" strawberry melon shaved ice.
Since it's summer and the weather's been hot lately, I've been craving Patbingsoo(basically a Korean version of shaved ice except with red beans, etc.).
So, with my determination I tried to make that strawberry melon shaved ice since I wanted to see if it actually tasted good (and since it looked good too lol)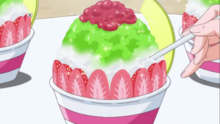 With some luck and right timing, I was able to get all the ingredients(except that melon slice for garnish.. T_T) just recently and attempted to make it! (YESS)
Here's the result between anime and real-life: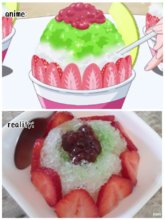 Not too shabby, huh?
It actually tasted pretty good!
Although not the best shaved ice in the world, it tasted pretty decent!
Though maybe adding some more syrup would've helped.
If you'd like to know the stuff I used, here's a list:
Ingredients:
shaved ice
fresh strawberry slices
melon syrup (I used this brand)
canned red beans (I used this canned red bean paste called, '통단팥')
melon slice for garnish(I forgot it...T_T)
Tools:
shaved ice maker
bowl for shaved ice
spoon for eating shaved ice
knife for cutting strawberries
frozen ice for shaved ice
I found a lot of the ingredients at an 'H Mart' (which is a Korean supermarket). I was lucky to find the melon syrup there though! But you can try to look for some of the ingredients at your local supermarket(like strawberries and melons) or at a Japanese supermarket(where stuff like the melon syrup will be easier to find)/Asian supermarket.
It's perfect for summer if you're looking for a cool treat as an alternative for ice cream!