Hi, I just wanted to inform that I have encountered a problem involving the Signature Section.
You see, I had this Madoka gif in it, and suddenly, it stopped showing up, like the image file or the link was broken. It was not.
So I thought "okay, maaaaaybe I can put a still image, make my own signature, right? "
Yeah, not happening either: for some weird reason, the web thinks I exceeded the signature limit "for 62 characters":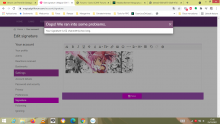 I only see an image there. No letters, numbers, symbols... no characters AT ALL.
Okay, 5 characters if you count the Madoka girls. Just joking.
Is this only happening to me? Can it be fixed?