Hey guys! I'm just letting y'all know that I'm running a Kickstarter for a dress-up game of the ultimate Magical Girl Creator. Please check it out:
https://www.kickstarter.com/projects/cloudnovel/magical-girl-creator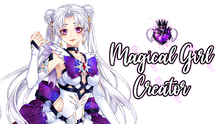 Please check it out! This is a really fun game on creating your own magical girl! We're 27% funded, so we are almost at our $1000 goal!
Thanks guys